Chichester is a dynamic and successful club due to the dedicated hard work of a small band of volunteers who give their time each week, or indeed each day, to ensure the Club runs smoothly and offers such a range of activities. Once a year we require at least one third of the membership to come together at the Annual General Meeting – the only business orientated meeting of the season – to recognise the work of the volunteers, to vote in the new Committee and Post Holders and to discuss issues relating to the Club's activities in the future.
Last night's important AGM was very poorly attended and while many Members will have had genuine reasons for their absence, it's a very poor show when there are insufficient attendees to conduct the business and others didn't attend because they thought it might be boring, it didn't concern them or simply because it was raining.
Fortunately, there were no formal proposals on the agenda and so on the principal of absence conferring consent, the new appointments were confirmed. If any Member wishes to object to that as the meeting was not quorate, do please contact me.
In the event, despite the disappointing turn out, it was a thoroughly positive (and far from boring!) evening. There was a constructive discussion about the financial challenges we face; a positive response to to suggested changes to the PDI competitions and PDI of the Year, as well as helpful thoughts on improving the projection of PDIs.
We took a moment to thank all those whose unstinting contributions have given us such a successful year (the Review of the Year will be available on a separate post), especially this year our thanks to Liz Boden, stepping down now as Secretary; to John Dean, our Print Competition Secretary for many, many years, now also stepping down. and to David Donati who has looked after the mentoring programme who is also leaving the Management Committee.
I am very pleased to say that John Bradshaw was elected to the position of President, the vacancy having been created by the sad loss of Jeanne Bevis who had held the role for so long. I am pleased to welcome Tim Crabb as Club Secretary, Mike Harris, taking up the reins of Print Competition Secretary and to have Linda Bullimore join the Management Committee, while she continues her Small Print Competition Secretary role. Also newly elected as Post Holders last night were Richard Smith, taking on the SxPF and Regnum Crouch liaison responsibilities and Sue Nash who replaces Sarah Nichol as an Observer on the Selection Committee – our thanks to Sarah for sterling work.
There was one further significant piece of business last night, which was the appointment of Ann McDonald as Vice President, which gave John Bradshaw his first 'official' task in presenting Ann with flowers in recognition of this. This item is fully reported on a separate post, but it was an honour for me to make this announcement and well deserved by Ann.
Finally, any disappointment we felt at the poor attendance last night was more that compensated for by the lovely tribute paid to the Club by new Member, Richard Ryder thanking everyone for making him so welcome, how much he had learnt and how much he was enjoying his membership.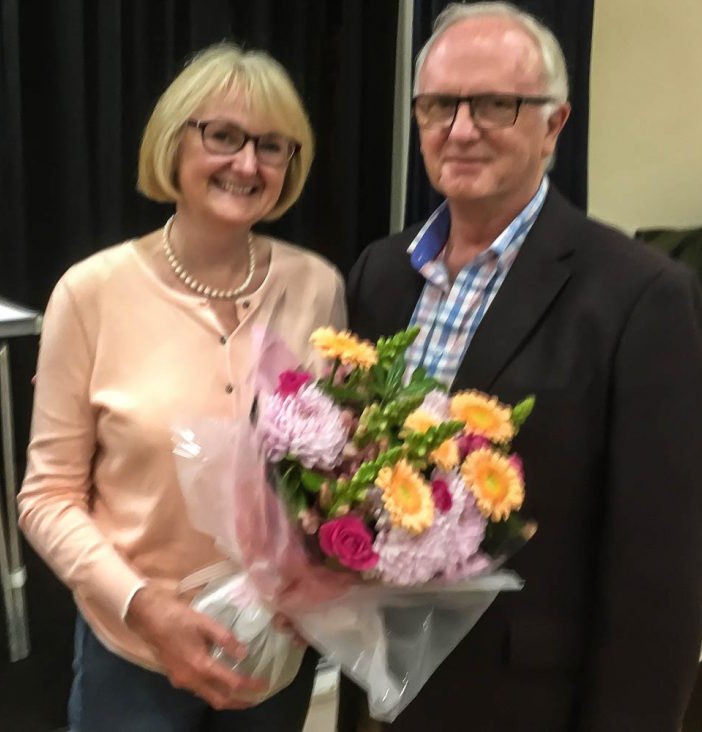 Newly elected Club President presents Ann McDonald with flowers following the announcement of her appointment as Vice President