I forgot to remind everyone in the Newsletter sent out yesterday about the request for new prints so we can change the display at St Wilfrid's.  We have a long standing arrangement with St Wilfrid's Hospice to provide about 30 prints, kindly provided by members that are hung in the Hospice corridors.  The display is changed around 3 times a year and is much appreciated by residents at a very difficult and often traumatic stage in their lives and of course staff and visitors.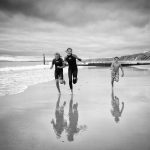 The box for prints will be out on the next 3 Thursday Club evenings so please bring some prints along.  For new members, the prints have to be in mounted in the usual 50cm x 40 cm mounts and Hilary Featherstone then arranges to take them to St Wilfrid's and puts them into the frames provided by the Hospice.
This year the 'old' display will then be transferred to the recently opened Sage Centre in Tangmere (for patients suffering from dementia) and then returned to members a few months later.
These intitiatives provide opportunities for members across the Club to display their work and, importantly, helps to promote the Club's community profile.  Please do show your support by bringing in some of your work.
In addition we are also seeking prints for the Selection Committee to consider for external Club competitions and for the Novium display  about which separate posts have been written